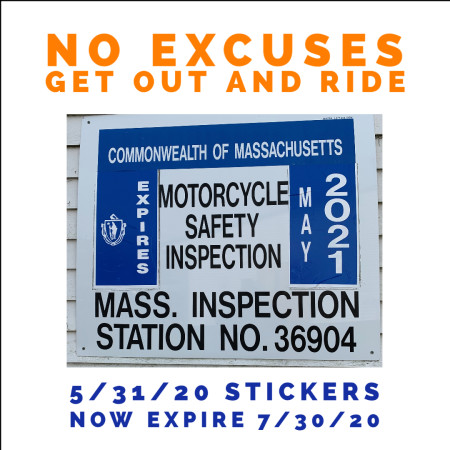 In order to keep more people home, the Massachusetts Registry of Motor Vehicles has extended the expiration date for motorcycle inspection stickers. The May 31 stickers now expire on June 30th. This is subject to change. Please visit the RMV website for updates. We are putting on 2021 stickers on the bikes that need service work and pass inspection, but while retail operations are closed, Cape Cod Harley-Davidson is not doing just inspection sticker appointments. Please plan for those types of visits after May 18th (or later, depending on Governer Baker's orders). If you think you need work done to pass the inspection, please schedule service and contactless drop off with us.
UPDATE July 4: Stickers now expire July 30. Ride right in for an inspection Tuesday - Sat 9 am - 4 pm, no appointment necessary. Please park in front of the service area (between the two buildings, but in front of the rope), leave your keys in the bike and enter through the front doors with your registration in hand. The service doors are on-way exit per our COVID-19 prevention plan.
When we are talking about Massachusets Registry of Motor Vehicles, we are still able to register bikes purchased through the Electronic RMV - saving you a trip to the RMV. We are pleased to be able to offer this registration service to our Massachusetts motorcycle customers.